THE
WALKING STICK SOCIETY
PRESENTS
LEON REDBONE MEMORIES
Home
The Walking Stick Society
Leon Redbone Bio
The Bratcher Collection
L
eon Redbone Music
L
eon Redbone Photos
L
eon Redbone Videos
L
eon Redbone Prints
Leon's Sidemen and Friends
Contact Us
Links
The Walking Stick Society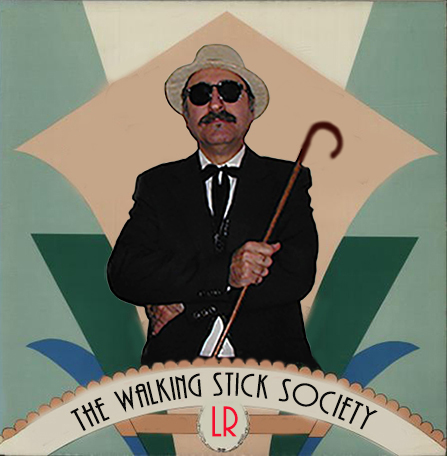 The Walking Stick Society was formed by Billy Bratcher and Tom Dameron out of a mutual appreciation and preservation of the music and career of Leon Redbone. His chosen material of sentiment, melody, innocence from various jazz, blues and country catalogues have resonated with so many with exquisite taste. So we thought The Society would be a special place to share with like minded individuals the artifacts owned by Leon and now in Bratcher's collection. The rare photographs, shared stories by musicians who appeared with Leon on stage, radio and television and other recollections from friends and fans. Our mission is sincere with no other motive but to expose a younger audience to Leon and allow older fans a chance to stroll down memory lane, with or without their cane

.
| | |
| --- | --- |
| Billy Bratcher | One of Billy's first LPs was "On The Track" by Leon Redbone dating back to 1975 when he was 13 years old. Although Billy's musical taste would weave in and out of many genres, he was drawn to those songs featured on that record perhaps after hearing his ragtime playing grandmother banging out some of them on her piano at an early age. Billy would eventually form a lifelong passion for entertaining as an upright bass player touring coast to coast as well as being a top notch songwriter. His Vermont group The Starline Rhythm Boys are known worldwide and are the Honky Tonkin pride of his native state. It was Austin Texas bred Wayne Hancock who would steal Billy for touring ventures across the U.S. in the late 90s. Billy would eventually cross paths with Leon Redbone, nothing more than as a fan. But it was those encounters that would influence a beautiful solo record called "In The Lobby" that pays respect to Redbone and beyond. Although Bratcher remains the chief songwriter for The Rhythm Boys and bass player, he formed a few side acts. Sweet William & SugarCone (complete with his own comic strip), a lovely piano guitar/ vocal duet. Also, The Hokum Bros. a vaudeville style musical comedy act. Although he remains very active with all, his dedication to preserving the musical heritage of Leon Redbone has become that of a sincere necessity, perhaps as a thank you for being an early musical influence in his young life. Bratcher lives not far from the shores of Lake Champlain in Burlington, Vermont and has also spent 35 years in hospitality. |

Tom Dameron


Photo by Bob Tedrow



Tom Dameron is a local Artist and Musician living in Homewood, Alabama. Tom plays Tuba in two musical groups, The Old Fashioned Rhythm Method and The Anything Goes Trio. More information can be found on

www.tomdameron.com

and

www.theoldfashionedrhythmmethod.com

and on Facebook and Instagram. Tom spent his career of fifty years as a Hospital Pharmacist specializing in the preparation of I.V. fluids but also spent his free time being an artist and playing music with a number of Traditional New Orleans style bands. During this time he discovered Leon Redbone who became his greatest influence in music. After retiring from his practice of Pharmacy Tom has been able to pursue his art and music full time. Tom works in a variety of mediums: pencil, watercolor, etchings, serigraphy, acrylics, encaustics and stained glass. The focus of his work is the celebration of people and nature. Music and art come together in his work. Tom produced a Serigraph of Leon Redbone as a tribute a few years ago and was honored to have Leon sign the back of the piece after a concert. Now this piece of art is a treasure. Tom has paid tribute to a number of his musical friends. Their pieces have been included in the permanent collection of the Alabama Jazz Hall of Fame. Tom also has work in the Montgomery Museum of Art and many private collections.


CCopyright 2020 The Walking Stick Society all rights reserved.